Playa el Agua is by far Margarita's biggest and most popular beach. It is a fine sand beach, lined with palm trees, over 4 kilometers long. There is a boulevard running behind these palm trees for all of the beach's length, and on it you will find a line of restaurants, hotels, and shops. You can rent beach chairs and umbrellas from these outlets, plus most of them offer showers and toilets.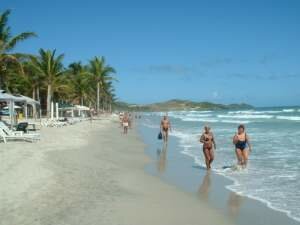 Playa El Agua is full of restaurants, all different kinds, so you will have plenty of opportunities to try different types of food and drinks. Try for example a fruit drink made from fresh fruit of your choice, blended while you're waiting.

At the beginning of the boulevard, there is a whole flee market where you can buy towels, sunglasses, sandals, clothing, sunscreen, and other beach articles. Along the boulevard around the middle is a little food store where you can buy water, snacks, some food items, plus handcraft gifts and postcards.

Playa El Agua is liked by both tourists and locals. It is home for big beach parties during the high season.

The waiters in restaurants are very friendly (as are Margaritan people in general). All of them may not know English - or know it real well- but if you venture a few Spanish words with their few English words, you will get understood and served well.


Local people tend to prefer the beginning of the beach, and so prices may be cheaper at that end. The middle of the beach is usually filled with families and tourists, and young people tend to acculumate at the end.

Walking along the beach boulevard you will encounter many artists and painters. We have made a separate photo gallery of their work.

You will also encounter may beach vendors, selling beachwear, bikinis, sunglasses, drinks, ice cream, coconut water, beautiful exotic handicrafts etc... They generally are very polite and do not pester tourists who simply say 'no', but by all means please consider supporting these people. Employment opportunities in Venezuela are not always that great.

See an interactive satellite map of El Agua beach!