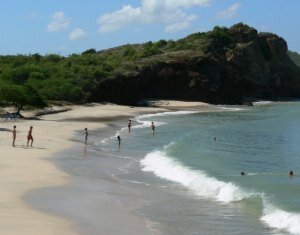 Playa Puerto Viejo is a small beach located on the northern coast of Margarita Island. It is bordered by Hotel Hesperia and thus mostly visited by hotel Hesperia's guests (formerly called hotel Isla Bonita).

However, there is also a separate public access to the beach for those who are not staying at hotel Hesperia. You first need to turn in to to Hotel Hesperia, then go to its right side and you find a small bumpy road that leads to the beach.

The beach itself is very nice, with some palm trees, and fairly small waves - thus good for swimming.

On the west side the beach ends to a high rock, and behind that you can see another bay, another rocky point, and then a high hill with a lighthouse called Punta Zaragoza.